About Us
The delightful mix of aromatic spices and tastes make up Afghan Cuisine. If you want a taste of your favourite food, try Modern Kebab House located at 24A Park Terrace, Salisbury North SA. We offer fast and convenient takeaways and delivery services 7 days a week for busy people. Our menu features our signature dishes like Mix Kebab, Chicken Kebab, Babaqi Palaw and more. For families and big groups, we have price-friendly meal deals so everyone can eat like a King. Traditional dishes like Kebabs, burgers, rolls, chips and other Afghan dishes are on hand. Refreshing beverages can also be ordered to add pleasure to your meal. Just click on the Order Online button and we will deliver right away.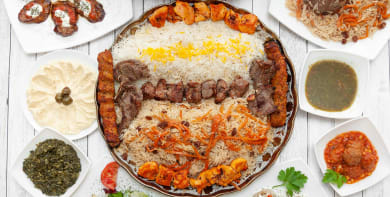 Reviews
Andrea
"The food is always delicious and excellent value for money!"
10/06/2022
Menu
Contact Us
Find Us
24A Park Terrace, Salisbury, 5108
Opening Hours
Monday
3:00 PM - 10:00 PM
Tuesday
3:00 PM - 10:00 PM
Wednesday
3:00 PM - 10:00 PM
Thursday
3:00 PM - 10:00 PM
Friday
3:00 PM - 10:00 PM
Saturday
3:00 PM - 10:00 PM
Sunday
3:00 PM - 10:00 PM
Please note, delivery times may vary.
We deliver to
5106 Parafield, 5106 Salisbury South, 5107 Parafield Gardens, 5108 Paralowie, 5108 Salisbury, 5108 Salisbury Downs, 5108 Salisbury North, 5109 Brahma Lodge, 5109 Salisbury East, 5109 Salisbury Heights, 5109 Salisbury Park, 5109 Salisbury Plain, 5110 Burton, 5111 Edinburgh, 5112 Elizabeth Grove, 5112 Elizabeth South, 5112 Elizabeth Vale, 5112 Hillbank